About Precision Calibration
Precision Calibration is a dba of CMT Engineering Laboratories (CMT). CMT provides materials testing on concrete, soils, and asphalt and utilizes a large number of nuclear gauges with a need for calibrations and repair. Precision Calibration was developed to perform that service not only for CMT but for all testing laboratories.
Precision Calibration facility has been setup and verified in accordance with ASTM D7013. The facility is equipped with several background controlled and wall insensitive calibration bays which allow us to accurately calibrate multiple gauges at a time.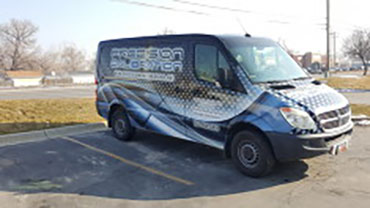 The calibration blocks used in our calibration process are calibrated by an A2LA: ISO/IEC 17025 accredited agency and are NIST traceable.
Precision Calibration offers calibration and service on all models of nuclear moisture density gauges. Being a local service center in Utah allows us the capability of providing year round low cost pricing with fast turnaround time.
We provide convenient and hassle free shipping outside of our local area. We provide the required forms and documentation at your fingertips.
We understand that your density gauges are a vital part of your business. We will work hard to return it to you in the shortest time possible.
We're not limited to just nuclear density gauges. Precision Calibration also offers repair and calibration services for concrete compression machines, gyratory compactors, NCAT incinerators. We also calibrate most all laboratory equipment including ovens, balances, scales, load cells, proving rings, LVDT's, dial indicators, thermometers, calipers, molds, sieves and more.
Contact us today.
Jeremy Axbom, Service Manager for Precision Calibration can answer all of your questions.
With over 28 years experience working in construction materials testing laboratories using the materials testing equipment first hand, I feel that I have an advantage over most calibration companies, that being I actually have use the equipment, I understand it, I know the applicable ASTM/AASHTO standards for that equipment's use. I am familiar with the requirements of multiple quality systems R18,E1077,E329, ISO/IEC 17025,  thus I am able to offer a higher level of service, repair and precise calibration for your equipment.
Jeremy Axbom
C: 801-386-6594
Jeremy@precisioncalibration.net